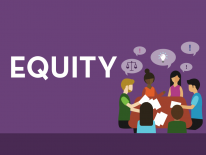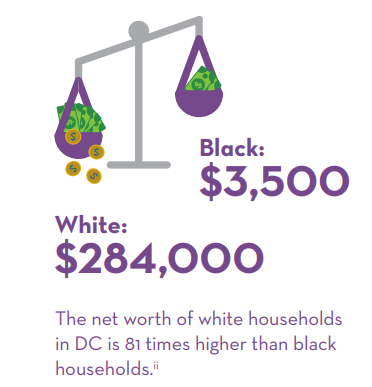 Racial equity is an integral element of a truly sustainable city. Communities of color are more prone to experience deep and persistent gaps in income, health, employment, and education. While the District's prosperity is growing, the benefits have not been widely shared. Studies suggest that the Black median household income in DC—now around $42,000—is less than a third of the White median household income of $134,000 and has remained stagnant since 2007. The gaps in household income can be attributed to other disparities in geographic areas inhabited by people of color. In many places, the gaps are obvious. In wealthy areas, there is better access to well-maintained green space, high-quality schools, and walkable commercial areas. Less affluent areas often experience more crime, higher mortality rates, lower-income, and fewer amenities. In an equitable society, race wouldn't be a factor in one's quality of housing, employment opportunities, or earning potential. While this is not yet our reality, equity is a critical component of being a sustainable city.
As we strive to create a sustainable District, we are also faced with an immediate challenge: ensuring residents living in less affluent communities equally enjoy the benefits of a healthier, greener, more livable city. For many residents, sustainability means struggling to afford housing in a rapidly changing city. To make sustainability relevant to all residents, we must take into account the struggle for racial equity in our city. As a short term goal, the Equity section in the Sustainable DC 2.0 Plan calls for the creation of an Equity Impact Assessment Tool. District Government agencies will use this tool in the development of their plans and policies, to address the problems faced by underserved residents through a sustainability lens, using holistic solutions. The vision is for agencies to equitably distribute their resources to residents through the adoption of policies that do not perpetuate inequities. While equity includes gender, age, ethnicity, social class, language, sexual preference, and mental and physical ability, it must start with race.
As the US population shifts and racial minorities become majorities, the projections look different for American cities. In the District, it is projected that the Black population will continue to decrease as White residents become the majority. Sustainable DC can—and should—play an active role in reducing the disparities that help cause these shifts. The first step in the process is to create opportunities for historically marginalized residents to have an active voice in the decision-making process. Sustainable DC 2.0 includes a new section intended to serve as an equity filter for the entire plan.
Sustainable DC Equity Goals:
The Sustainable DC 2.0 Equity goals are to:
Create an Equity Impact Committee to guide equity in the development and implementation of the Sustainable DC 2.0 Plan.
Develop an Equity Impact Assessment Tool to help the District immediately address racial inequities related to sustainability.
Provide equity-focused training for all District Government employees.
Focus community engagement on communities that have been historically underrepresented.
There's More
The Equity goals will connect to and impact the goals in every section of the sustainability plan.
Read the entire Equity section below, or read the whole plan here.
Ensuring that the sustainability plan is equitable will require tough conversations so that the goals of the plan are inclusive of many voices. We want to hear from you. Let's have a conversation: email us at [email protected]
References
ii: K. Kijakazi et al., The Color of Wealth in the Nation's Capital, Urban Institute, 2016, as cited in Sustainable DC 2.0.