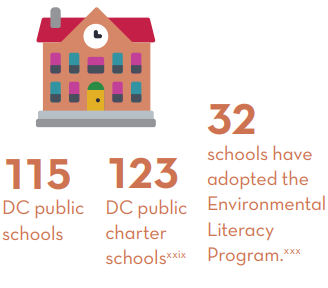 Sustainability education is fundamental to the success of Sustainable DC. This includes education of our young people within the formal education system as well as community-wide education on the benefits and importance of sustainability. In a recent survey, 49 percent of residents responded that they had not heard of Sustainable DC, but 68 percent were supportive of sustainability. This is a good foundation of support, but shows that we have work to do when it comes to sustainability education. Another theme in this recent survey was that sustainability doesn't feel inclusive—that it is only for some residents, but not others. This is particularly true among residents of color. District Government is working hard to better include people of color and ensure that sustainability is relevant, meaningful, and welcoming to all District residents.
Currently, the main forms of sustainability education by District Government are the implementation of the Office of the State Superintendent of Education's Environmental Literacy Plan, community engagement by the Department of Energy and Environment, including its Sustainable DC Ambassadors program and the Green Zone Environmental Program, and Department of General Services programs to reduce wasted food and electricity in schools. Much more expansive sustainability education is done by the District's strong network of environmental and sustainability nonprofit organizations.
Sustainable DC 2.0's actions on education have real-world benefits for the District at all levels:
Individual: Every resident, regardless of where they live, should be afforded the opportunity to access all the public services and financial incentives that District Government offers, to improve the quality of their lives. Residents and especially those who've been underserved also deserve to be educated on plans and projects and a convenient way to weigh in on them. Through Sustainable DC, District Government will strive to create a method to ensure its community engagement reaches those who have not weighed in, resulting in equitable outcomes.
Neighborhood: The District's public school buildings, recreation centers, and libraries are critical facilities for the development of residents. As we renovate these buildings to be healthy and green, they become excellent opportunities for communities to learn about green building, energy-efficiency, stormwater management, and sustainable waste diversion. By making buildings more sustainable, we are also transforming them into tools for communal learning.
District: A growing population of sustainability stewards engaged in community-driven processes will lead to positive impacts in all communities, but especially communities of color and those with limited English proficiency. More importantly, District Government employees will have the opportunity to better understand how to shape programs and initiatives that are most attractive to residents based on the needs of their individual communities.
Sustainable DC Education Goals:
The Sustainable DC 2.0 goals are to:
Ensure every student in the District graduates with the knowledge to protect and restore their local environment
Expand community education and engagement on sustainability practices that will help residents live green lifestyles and save money.
There's More
The Education goals also connect to goals in Climate, Energy, Nature, Water, and Economy.
Read the Education section below, or read the whole plan here.
Interested in becoming a citizen scientist? Read more about available hands-on, citizen science initiatives at the DC Department of Energy and Environment here.
Do you want to learn more about environmental education in DC schools? Learn more through the DC Environmental Literacy Plan here.
Are you looking to increase your skills through adult education or job training? Learn more here.
Want to volunteer with SDC and our partners as we work to provide more sustainability education in your neighborhood? Sign up to volunteer here.
References
xxix and xxx: Office of the State Superintendant of Education