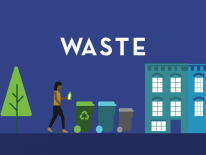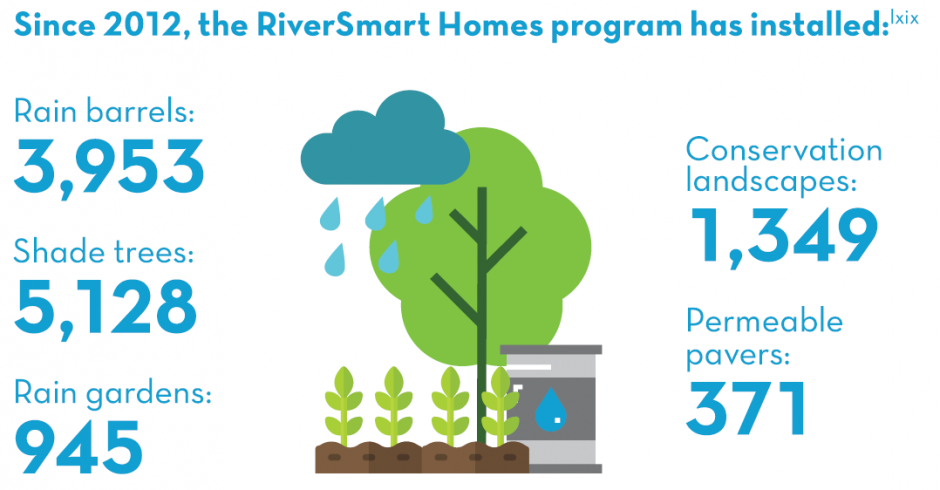 Washington, DC is home to two tidal rivers, the Anacostia and the Potomac, and 47 miles of shoreline. While the District's waterways have started to make a remarkable comeback, our rivers are still in poor health. Poor water quality makes rivers and streams unsuitable for recreation, threatens wildlife, exposes people to dangerous contaminants, and requires costly and energy-intensive treatment. The poor water quality of our rivers is largely to the District's large amounts of impervious surfaces that do not soak in water such as parking lots, streets, and buildings. Additionally, the pumping, treatment, and distribution of water is extremely energy-intensive—often 30 to 40 percent of a city's energy consumption.
The District Government is committed to improving the quality of its waterways and is at the forefront of implementing innovative technologies and programs to better manage our stormwater throughout the city. By improving the District's waterways, we are in turn improving the habitat and quality of life for the District's wildlife. In 2018, for the first time in ten years, the Anacostia River received a passing grade on an annual health check by a local advocacy group, the Anacostia Watershed Society.
DC Water's $2.6 billion Clean Rivers Project is contributing to the river's improved quality by reducing the amount of combined sewer overflows by 96% through the construction of larger underground tunnel systems. In addition, under the District's Municipal Separate Storm Sewer System (MS4) permit, issued by the EPA, the District Government is required to manage and reduce stormwater pollution by installing green infrastructure, such as permeable pavements and rain gardens, and tracking pollutant loads. The District Government has also launched cutting edge programs, such as the Stormwater Retention Credit Trading Program, that allows property owners to earn revenue for projects that reduce harmful stormwater runoff by installing green infrastructure or removing imperious surfaces. In 2014, the District Government also launched a long-term project, "A Cleaner Anacostia River," to remediate the Anacostia River's contaminated sediments and has allocated $45 million to this project. The restoration of five streams that flow into the Anacostia River has also helped improve river water quality. Finally, the passage of multiple laws such as the foam ban and bag law, have all worked to improve the Anacostia River's water and recreational quality.

Sustainable DC 2.0's actions on water have real-world benefits for the District at all levels:
Individual: Actions in Sustainable DC 2.0's Water section focus on making the District's rivers a resource for everyone to enjoy. By restoring these waterways, residents will have more opportunities for healthy recreation and physical activities such as fishing, boating, and swimming.
Neighborhood: To better manage the risk of neighborhood flooding, Sustainable DC 2.0's water section pushes the District to innovate at the neighborhood level by incorporating more small-scale stormwater collection in order to more efficiently capture stormwater.
District: As the District continues to rapidly grow in population, innovative programs like the stormwater credit trading program help reduce stormwater runoff to keep our rivers and streams clean while allowing new housing and business to meet current demand.
Sustainable DC Water Goals
The Sustainable DC 2.0 goals are to:
Improve the quality of waterways to standards suitable for fishing and swimming.
Reduce the volume of stormwater runoff.
Reduce demands for potable water and increase rainwater reuse.
Ensure safe, accessible drinking water.
Where We Are
The Anacostia Waterfront Initiative 15 Year Progress Report describes Washington, DC's vision to reconnect the river to make possible widespread access to the water and its new parks as well as recreational, cultural, residential, and commercial centers. The amended Comprehensive Plan describes the city's overall approach to water conservation, quality, and access. Resilient DC describes how resilient rivers are a major focus area when addressing multiple shocks and stresses. Resilient DC rethinks the relationship between DC's waterways and the communities that thrive along them.
There's More
The Water goals also directly connect to goals in Education, Nature, Transportation, and Health.
Read the entire Water section below, or read the whole plan here.
Go even deeper with more detailed plans on the Anacostia Waterfront 15 Year Progress Report or resilience.
Want to volunteer with SDC as we work to improve water quality? Sign up to join us here.