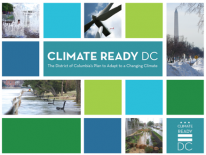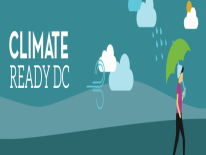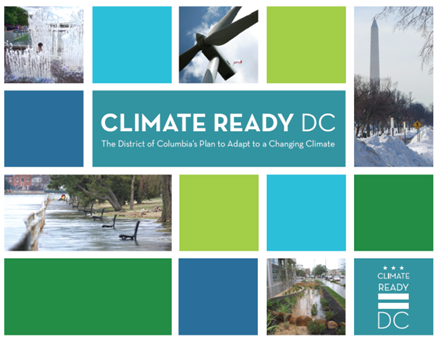 The evidence clearly indicates that climate change, once considered a problem for future generations, affects DC residents and businesses today. In recent years, we have seen how climate change is already impacting us with record-breaking heat waves and snowstorms, flooding caused by rising sea levels and heavy rains, and the destructive 2012 derecho storm. These events are sobering reminders that without action, increasingly severe weather events will threaten to disrupt our power grid, harm our economy, and cost lives.
Climate Ready DC is the city's strategy to make DC more resilient to future climate change. DC's investments in expanding our tree canopy, managing stormwater, and greening our construction codes are helping us to prepare for hotter summers and heavier rains. Our programs to save energy and install solar energy are also helping to make our power system more durable. But, we have much more work to do to ensure that all residents are protected, and we cannot do it alone. Achieving our commitment to climate resiliency by 2050 requires ambitious action today—we must make forward-looking choices and targeted investments while monitoring our progress now and in the coming decades.
Read the full Climate Ready DC Plan
What Will Climate Change Mean for DC
Rising Temperatures, Heatwaves and Dangerously Hot Days
Average annual temperatures have increased 2°F during the last 50 years, and are expected to continue to rise. Historically, the average summer high temperature was 87°F. This is projected to increase significantly to between 93°F and 97°F by the 2080s. As average temperatures rise, extreme heat days will increase and heatwaves will last longer and occur more frequently. Heat waves can be deadly, as prolonged heat exposure may lead to a series of health conditions, including respiratory challenges, exhaustion, cramping, heatstroke, and fatalities. This proves especially true for older people, children, and those with existing health conditions, who are at greater risk of developing heat-related illnesses.
Even more, Some neighborhoods in DC are up to 16.5°F warmer than others due to the urban heat island effect. Neighborhoods with large areas of pavement and buildings, and minimal green space, stay warmer than non-urban areas. As temperatures increase due to climate change, this effect will worsen.
What Is the District Doing?
The District is working to reduce the urban heat-island effect and related increases in outside air temperatures by encouraging cool and green roofs, expanding green space, and planting and protecting shade trees, especially in areas with the greatest number of heat-sensitive residents.
More Frequent and Intense Heavy Rain Events
In July, 2019, the District experienced a month's worth of rain in a matter of hours stranding residents on top of their cars. In 2016, another cloudburst over Cleveland Park sent water rushing down the Metro station escalators and submerged the tracks with water, closing the station. In 2012, heavy rains over the Bloomingdale neighborhood overwhelmed the storm sewer system and flooded streets and the basements of homes. In 2006, heavy rains (or cloudbursts), over Federal Triangle caused flooding that submerged the basements of federal office buildings and national museums with multiple feet of water, causing millions of dollars in damage and exposing the priceless collections of the country's museums.
The intensity and frequency of these severe rain storms is only expected to increase in the District as a result of global climate change.
What Is the District Doing?
The District, led by efforts at DOEE, DC Water, and DDOT, has become a national leader in utilizing green and gray infrastructure to better manage stormwater and to reduce harmful runoff into DC's rivers and streams. Currently, the District is developing a better way to model interior flooding. This will allow the District to identify which communities are most exposed and sensitive to flooding, and where targeted stormwater management planning is needed. The District is also exploring new opportunities to store floodwater while creating community amenities such as parks. To learn more, see our Blue Green Infrastructure Report.
Sea-level Rise & Storm Surge
Over the last century, warmer oceans and melting ice due to climate change have caused sea levels to rise around the globe. This change in sea level rise poses significant risks to coastal cities and those adjacent to tidal rivers. In DC, water levels for the Potomac and Anacostia Rivers, both tidal rivers, have increased 11 inches in the past 90 years due to sea-level rise and subsidence. As a result, nuisance flooding along our riverfront has increased by more than 300%, according to the National Oceanic and Atmospheric Administration. Sea level rise will only amplify this trend.
What Is the District Doing?
The District developed the Flood Risk Tool to help design professionals, developers, and consultants identify the potential flood impacts of a particular site. The tool offers an interactive map that offers views of the risks of multiple types of flooding throughout the District. The map includes layers of FEMA Flood Insurance Rate Maps (FIRMs), storm surge, and sea-level rise.
As called for in Climate Ready DC and Resilient DC, the District is also considering limiting the development of new critical facilities within the 500-year floodplain and is developing a set of resilience guidelines to encourage climate-smart design.
More Intense & Unpredictable Storms
DC is also vulnerable to coastal storms, like hurricanes, that cause storm surge flooding. Rising sea levels will only increase the danger that coastal storms can cause. In addition, fast-moving storms with intense winds, like the 2012 Derecho can quickly knock out power, leaving residents in the dark.
What Is the District Doing?
The District Government is actively exploring opportunities to advance distributed energy resources like solar power, battery storage, and microgrids that can provide communities with resilient power.
To learn more about climate risks in the District, read the supporting technical reports:
Disproportionate Impacts
Climate change will not affect everyone equally. As defined by the National Association for the Advancement of Colored People (NAACP), frontline communities are groups of people directly and indirectly impacted by climate change at a disproportionate rate when compared to other groups. These groups tend to have less access to resources and protections due to income, age, gender and gender identity, race, disability, sexual orientation, etc. For example, older adults tend to be more sensitive to heat and more likely to suffer heat stroke or worse. And, an individual who can afford to install and run air conditioning has greater capacity to adapt to heat waves than someone who cannot afford airconditioning.
What Is the District Doing?
Climate Ready DC calls for action that reduce the economic effects of severe weather on frontline communities and that prioritizes resources to improve emergency preparedness in Frontline communities.
Recently, the District developed a Multifamily Resilience and Solar Assessment Tool to comprehensively identify opportunities to improve the resilience of affordable housing properties to climate change impacts. The tool was piloted across twenty properties in the District. Owners of the pilot properties received comprehensive assessment reports, detailing recommended retrofits and cost estimates. In the grant's second year, the team is working to support its use by owners of affordable housing across the District. Explore the tool using the links below:
Read the supporting technical reports that informed our risk assessments:
Learn More About How the District is Becoming Climate Ready
Climate Ready DC Implementation Roadmap
Climate change adaptation means being prepared for a changing climate by taking action today to reduce the potential impacts of climate change on people, buildings, and infrastructure. In 2020 the District released Climate Ready by 2050, Making Progress Towards a Climate Ready DC. This strategy identifies the steps we will take in the near term to address the most urgent risks we face in a changing climate. It also outlines how we will regularly report on progress so we can better assess if we are on track to achieve our ambitious but essential goal to be climate resilient by 2050.
Additional Climate Adaptation Resources