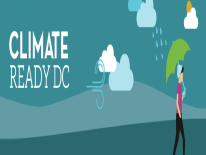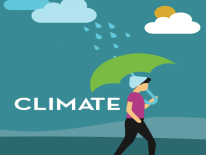 In the past several years, the District has seen record-breaking extreme weather (like heat waves and snowstorms), higher tides caused by rising sea level, heavy rains and flooding, and warmer average temperatures and two to three times as many dangerously hot days. Climate Ready DC is the District's plan to adapt to our changing climate. While the District is doing its part to reduce greenhouse gas emissions, we are already seeing the impacts of climate change. Climate adaptation means taking action today to prepare people, homes, communities, businesses and infrastructure for the potential impacts of climate change.
Learn what the District is doing to prepare for the impacts of climate change.
What Climate Change Means for the District
Rising Temperatures, Heatwaves and Dangerously Hot Days
Average annual temperatures have increased 2°F during the last 50 years, and are expected to continue to rise. Historically, the average summer high temperature in the District was 87°F. This is projected to increase significantly to between 93°F and 97°F by the 2080s. As average temperatures rise, extreme heat days will increase and heatwaves will last longer and occur more frequently. Heat waves can be deadly, as prolonged heat exposure may lead to a series of health conditions, including respiratory challenges, exhaustion, cramping, heatstroke, and fatalities. This proves especially true for older people, children, and those with existing health conditions, who are at greater risk of developing heat-related illnesses.
Even more, some neighborhoods in DC are up to 16.5°F warmer than others due to the urban heat island effect. Neighborhoods with large areas of pavement and buildings, and minimal green space, stay warmer than non-urban areas. As temperatures increase due to climate change, this effect will worsen.

More Frequent and Intense Heavy Rain Events
In September 2020, a surprisingly intense storm dumped almost three inches of stormwater on the District in a two hour period that overwhelmed sewer and stormwater infrastructure and led to dangerous flooding and prompted numerous rescue operations. In July 2019, the District experienced a month's worth of rain in a matter of hours, stranding residents on top of their cars. In 2016, a cloudburst (sudden, violent rainstorm) over Cleveland Park sent water rushing down the Metro station escalators and submerged the tracks with water, closing the station. In 2012, heavy rains over the Bloomingdale neighborhood overwhelmed the storm sewer system and flooded streets and the basements of homes. In 2006, heavy rains over Federal Triangle caused flooding that submerged the basements of federal office buildings and national museums with multiple feet of water, causing millions of dollars in damage and exposing the priceless collections of the country's museums. The intensity and frequency of these severe rain storms is only expected to increase in the District as a result of climate change. 
Sea Level Rise & Storm Surge
Over the last century, warmer oceans and melting ice due to climate change have caused sea levels to rise around the globe. This change in sea level poses significant risks to coastal cities and those adjacent to tidal rivers. In the District, water levels for the Potomac and Anacostia Rivers, both tidal rivers, have increased 11 inches in the past 90 years. As a result, flooding along our riverfront has increased by more than 300%, according to the National Oceanic and Atmospheric Administration. Sea level rise will only amplify this trend.
More Intense & Unpredictable Storms
The District is vulnerable to coastal storms, like hurricanes, that cause storm surge flooding. Rising sea levels will only increase the danger that coastal storms can cause. In addition, fast-moving storms with intense winds, like the 2012 derecho, can quickly knock out power, leaving residents in the dark.