The Green Ribbon Committee
Thursday, January 26, 2012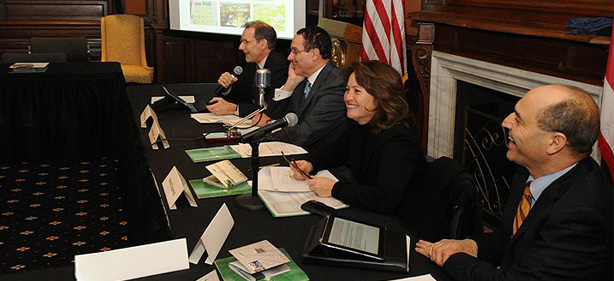 The Green Ribbon Committee advises Mayor Gray on the development of Sustainable DC by offering input on vision, goals, actions, and indicators recommended by the public and the working groups. The Green Ribbon Committee has been charged with providing a national and international point of view on the plan, as well as helping to reach out to communities within the District that have not traditionally been part of sustainability planning.
The Green Ribbon Committee will help develop an aspirational vision for a vital and sustainable future, and provide valuable feedback on recommendations from working groups made up of District staff, subject matter experts and the public. The Committee will also look ahead to implementation of the plan and achieving Mayor Gray's goal of making the District of Columbia the most sustainable city in the nation.
The committee is made up of District leaders from universities, non-profits, businesses, think tanks, and members of the community. For a complete list, please see the membership list link below.