Why It Matters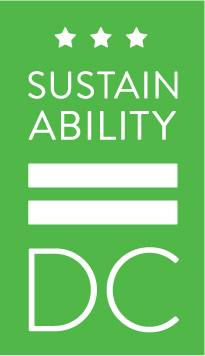 The District of Columbia's sustainability plan goes far beyond the environment to reach people where it truly matters: their wallets, their community, and their health. Through the Sustainable DC initiative, District residents will save money, strengthen their community, and improve their health.
Some of the greatest impacts of the plan will take place in the larger economy as new businesses grow, new jobs are created, and whole new sectors of the economy develop. The effects of the plan will provide enormous opportunity for the city's small businesses and improve the quality of life for residents in all of the city's diverse neighborhoods.
What Does Sustainability Mean for You?
Sustainability means bigger savings:
Lower energy bills through more energy efficient homes and buildings.
Lower transportation costs through more transit options and better walking and biking facilities make owning a car an option, but not a requirement.
Lower grocery bills by growing food at home, in community gardens, or on a nearby urban farm.
Sustainability means a stronger community:
More local entrepreneurs and small businesses in new green industries.
A better trained workforce prepared for new green trades, businesses, and industries.
Simpler regulatory processes to expedite green business activities.
Sustainability means healthier families:
Lower asthma rates through improved air quality inside and outside your home.
Lower obesity rates and chronic diseases through walking or biking to work and school, and healthier diets with fresh foods.
To make this vision a reality, the city needs to take action now to ensure that our citizens—particularly the most vulnerable—benefit from increasing innovation and amenities, a broader tax base, a growing and diversified economy, and a wide range of new and accessible jobs. Sustainable DC will lay out a future for the city that is sustainable—not just environmentally, but economically and socially as well. Investments to revitalize neighborhoods, expand transportation choices, improve community health, restore rivers and parks, and train for jobs must be targeted for residents in all areas of the city. The savings, health benefits and economic opportunities that will come from this plan must be fairly shared so we will all progress into a sustainable future together.